A romantic little video I made about Jamal and Latika and their love, as well as the struggles they have been through.
Ok, so there's this really awful part, because there's a clip of Salim's death, and immediately after it shows Jamal with a huge smile on his face. xD That was unintentional, and by the time I realized how bad that looked, I didn't want to change it because it might mess up the timing. So you get a small little bit of Jamal looking demented. Yay!
My sister, my friend and I made this movie montage. My computer kinda crashed, and I couldn't publish the file unless it was really low quality. So, that's what happened to this. So it kinda sucks, but I'm glad we could at least get this, because it took us a long time.


Song:
Viva la Vida by Coldplay

Movie clips from:
Tropic Thunder
Pirates of the Caribbean: At World's End
Iron Man
National Treasure: Book of Secrets
Hamlet
Kiss Kiss Bang Bang
Eagle Eye
Harry Potter and the Order of the Phoenix
The Dark Knight
Pirates of the Caribbean: Dead Man's Chest
Charlie Bartlett
Chronicles of Narnia: Prince Caspian
P.S. I Love You
Juno
Indiana Jones and the Kingdom of the Chrystal Skull
Pirates of the Caribbean: Curse of the Black Pearl
National Treasure
Enchanted
What Happens in Vegas
Twilight
Harry Potter and the Goblet of Fire
Secret Window
27 Dresses
High School Musical 3: Senior Year
Stay Alive

Current Mood:

sick
This is my new favorite poem. I heard it in A Haunting in Conneticut and had to look it up.

One bright day in the middle of the night,
Two dead boys got up to fight.
Back-to-back they faced each other,
Drew their swords, and shot each other.
A deaf policeman heard the noise,
Came and killed those two dead boys.
If you don't believe this lie is true,
Ask the blind man, he saw it too.
A/N: My first Iron Man fic! I wrote this on the way back from the cruise I was just on. A depressing day calls for a depressing story! So, I killed Tony Stark. :(
Summary: This is a oneshot describing the last couple of minutes of Tony Starks life, with Pepper Potts. He knows he's about to die, but he can't leave her without one last dance.
WARNINGS: Character death.
Pairings: Tony/Pepper.
Disclaimer: I have come to another sad realization today. On top of the fact that I am no longer on a cruise, I… do not own Iron Man. Marvel does. And some other rightful owners. How depressing, right? Oh, and the title is a line from Nickelback's "Far Away."

(
And then, everything disappeared.
Collapse
)
Current Mood:

accomplished
Title:
Sacrifices
Author:
xpiinkdiamondx [PiinkDiamond on Fanfiction.net]
Rating:
K+
Disclaimer:
I do not own Pirate of the Caribbean. *sigh*
Summary:
Jack's POV near the end of At World's End.
Genre:
Angst, Romance
Warning:
Slash (nothing explicit)
Length:
228 words
Fanfiction Link:
http://www.fanfiction.net/s/4005857/1/Sacrifices
(
I can't live knowing that I let him die.
Collapse
)
[23] The Lizzie McGuire Movie

Teasers:




(

All roads lead to RomeCollapse

)

| | | | | |
| --- | --- | --- | --- | --- |
| 21 | 22 | 23 | 24 | 25 |
1 Avatar
2 Edits
2 Banners/Sigs

Teaser: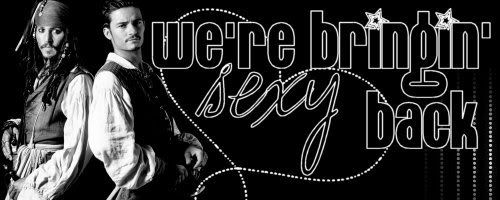 (
why is all the rum gone?
Collapse
)
Here is one I made when the show first started, so it kinda sucks.

(
to the two better ones...
Collapse
)
Riley-ness, Riley/Ben, I guess you can consider the boobs one Riley/Abigail. lol
Teasers:
(
FOLLOW THE CLUES
Collapse
)
[10] National Treasure
22 [Jake Gyllenhaal]
16 [Ashley Tisdale/Suite Life of Zack and Cody]

Teasers:

Current Mood:

frustrated